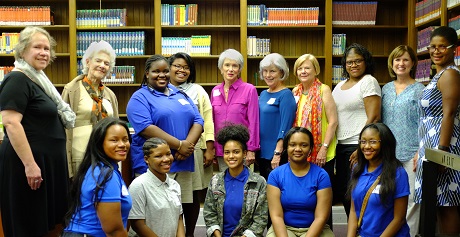 The Nora Project: Women Write, an inter-generational group of teenage girls from Lanier High School and elder women from the Montgomery community, will be presenting a stage reading of original short plays on Thursday, December 8, at 7:00 p.m. The reading will take place in the auditorium at Lanier High School, located at 1756 S. Court Street in Montgomery. The event is FREE of charge and open to the public. There will be a small reception afterwards.
The participants in The Nora Project have been meeting once a week for ten weeks to get to know one another, share their life stories with each other, and then write a short play based on something they heard in their inter-generational partner's story. The plays will be read by experienced actors from the Montgomery community.
The Nora Project: Women Write is an outreach project sponsored by the Brooklyn-based women's theatre company Nora's Playhouse. Caroline Reddick Lawson, Artistic Director of Nora's Playhouse and a Montgomery resident, is the facilitator for the project. Phadra Foster, writing instructor at ASU, is the playwriting teacher. The project was funded by a grant from The Alabama State Council on the Arts.
If you have any questions about the project, please contact Caroline Lawson at carolinerlawson@gmail.com.